There is no one size fits all when it comes to closet organisation! Whether you are organizing a wardrobe for your children, a teenager, a young adult or a senior individual, you need to keep the user's specific needs in mind before you get started organizing.
Here, the expert provide you with the closet organisation tips on getting you and your family through every stage of life.
Closet organisation for babies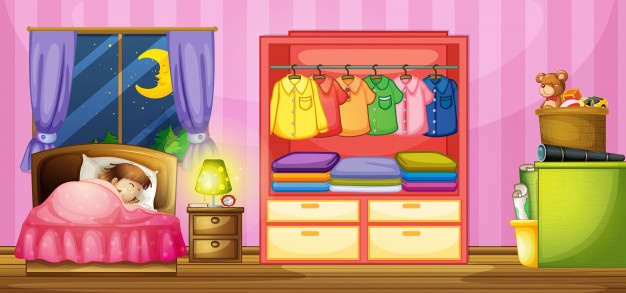 When it comes for baby's closet, standard wardrobes with their wide spaced shelves only translate to a lot of wasted space. Don't alter piling things in corners and over-stuffing drawers. Use these tips to plan out your baby's closet.
Consequently,for closet organisation install a rod across the length of the closet space. Since, babies' clothes are small, you can hang them on baby hangers, cutting down the need for shelving space on the side.
Set up a shelves that fits the closet space. It doesn't have to be too high, then you can use the top unit as a space to display toys and knickknacks, or to lay out clothes and diapers when you're getting your little one dressed.
Make sure the shelves has enough cubbies to suit your storage requirements.
Use fabric storage bins or plastic boxes to hold a variety of items like games, stuffed animals, diapers, nappies, and more.
A great benefit of having cubbies with pull-out bins is that they are safer as compared to drawers. So no worrying about your baby hurting their little fingers once they start crawling or walking.
Organizing closet for teenagers
Teenagers are have heaps of stuff over time and if they are already struggling to keep them under control, tough times await! Turn teen's closet space into a functional zone that can meet their evolving needs with these ideas.
Don't have any barriers in the closet space. Design the closet such a way that all shelves are clearly visible and easy for your teen to get hold of exactly what they want.
Shelves are perfect to store clothes like sweaters, jeans, etc. Arrange the most used items at eye level, accessories like caps and hats on the topmost shelf, and shoes on the lowermost shelf or on the floor. Use cloth hanger to hang shirts, pants etc.

Use bins, baskets, and hampers to store sports gear and items that are difficult to fold or cannot be contained in shelves. You can also use a hamper to hold items that need to be laundered.

Closet space for a teenage boy can be enlarged by installing closet rods, one above the other. If you are organizing space for a teenage girl, then allow clothing items like maxis and skirts to hang freely.
Install wall-mounted hooks to hold things like bags, belts, and accessories.
A towel bar must be installed on the inside of the closet door to hold scarves. You can use this space to put up a hanging organizer for jewellery, shoes, and more.
Closet organisation for dorm life
Student closets can be shockingly small, but that shouldn't stop you from having an organized closet space. After all, organisation is the key to success, and while you're in college, you can't afford to waste precious time getting ready each morning or searching for things in your closet! These are the small closet organisation ideas.
These closet carry only a couple of formal wear items for presentations, interviews, and internships. The bulk of your dorm closet should house casual clothes, but learn to mix and match pieces so you can look like you have different outfits without having to deal with a loaded up closet.

Use the right clothes hangers! Wire or plastic hangers make it look like they take up less space, they might allow your clothes to fall off on the floor. Use hangers with notches to ensure clothes stay put.

Maximize closet space by sliding down soda can tabs onto the necks of your hangers to accommodate more hangers.

Have a best closet organisation system in place for your belongings. A good idea is to organize clothes based on seasons. Stow away out of season clothes in suitcases or bins so you have ample closet space for current wear.

Don't forget to keep your shoes organized. Use a shoe rack or plastic boxes to house your footwear at the bottom of your closet.
Closet organisation for him and her
A closet can be one of the most difficult things to share with your partner! Don't let your storage space drive you up the wall and settle closet disputes easily with these tips.
Design your closet such that you and your partner have separate areas for your clothes, shoes, and also accessories. Simultaneously, Divide closet space among yourselves, keeping in mind who owns more stuff then assign closet space accordingly. Use hangers for hanging clothes.

Create a visual dividing line using a group of drawers or empty wall space.
Create double hanging sections by affixing an extra closet rod to make the most of vertical space. If you divide the sections equally, then both can be used to hang blouses, shirts, and pants.

Moreover, hanging is not only the solution to an organized closet space. A single closet rod with shelving on the top can leave more space at the bottom. So install shelves and get into the habit of folding items like sweaters, embellished clothes, and jeans. Hanging these clothes using hangers not only eats up valuable closet space, but also damages them when hung for a long time.

Make space to house a small dresser in the closet. You can use this to hold lingerie, socks, and other inner wear. You can also store sweaters, blankets, jewellery, and other stuff in these drawers.
Make use of jewellery organizers or trays to display your jewellery and to avoid his and her pieces from being mixed up. Ensure the same for belts, scarves, and hats by installing hooks or racks.
If you have less space and are simply overwhelmed by the amount of stuff in your joint closet, then store seasonal clothes in a trunk or suitcase.
Closet organisation for 50+
Closet organisation for individuals over 50 should be more about ease and safety. Whether you are an older or senior members in your family, these tips will help you get it right.
Pare down belongings- the fewer choices you have, the easier it is to make decisions when getting dressed. It is also easier to organize closet when you don't have a ton of things to tackle.

Identify clothes that you will not worn in a year and keep them away. If you are unsure about certain items, then store them separately.
Choose appropriate storage spaces according to your needs. If you find it hard to use shelves high up, bring the shelving down and fix closet rods higher. Use a variety of bins and baskets to hold stuff that are difficult to fold. Additionally, buy hangers to keep items organized.


You want to see your closet clearly, so make sure the space is well-lit. Also use labels to mark drawers and bins so you know what's on the inside. Remember to use a larger font!
Avoid storage for heavy items in higher position of the closet to prevent accidents.
Conclusion
Thus, organizing your closet don't seems to be a herculean task, but if you think things through, you'll not only be able to make storage and organisation a breeze for yourself. The key is to inspire them to stay organized, not push them for the same.